News:
...........................
Full Metal EUROPE -
12" EP release
Full Metal Europe a 3 track 12" vinyl record on the Terrorgraph label is out NOW. It contains the tracks - Full Metal Rubic, Boys in Coaltrucks and Ticker. Recorded live during the 2012 European tour and originally released on the CD Puppy Frequencies these tracks have now been remastered for this exciting, limited edition, vinyl release.
EP and download available from Bandcamp
...........................
Full Metal EUROPE -
Sydney launch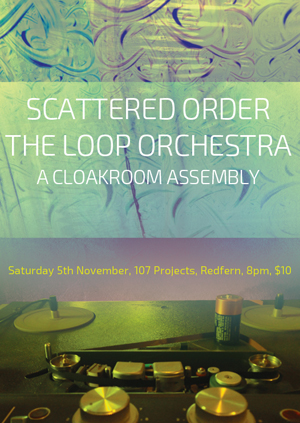 The Sydney launch for Full Metal Europe will be held on Saturday 5th November at 107 Projects - Redfern. Tape loop mavericks the Loop Orchestra and Michael Tee's ambient project A Cloakroom Assembly round out a truly unique bill.
Check the details at the Event page
...........................
Some men remember music -
LP release
Scattered Order and Rather be Vinyl are supper chuffed to announce the release of the new LP Some men remember music Creepy soundscape country or a foreign diplomat's idea of a condemned retreat. The album offers an in-depth look at the crack in the glass of self reflection.
Vinyl LP and download available from bandcamp
...........................

Scattered Order on Facebook
Scattered Order on bandcamp
Welcome to the Institute of Prat Culture
.... built as a sort of reference point for information about Scattered Order, a noise making band from Sydney, Australia, who began their post punk assault on listeners in 1979. Delve into the musical footnotes, relive the heady days of youth before tinnitus set in, or just laugh at the pictures...

A lugholes epic
The whole nail-biting saga is recounted in HISTORY

Noodlers and twiddlers
For detail on Scattered Order's family tree, see PERSONNEL

Wordy pictures
Not the prettiest band, so there's handbills as well, in the SCRAPBOOK